Share The Riding Experience
Call: 01264 357879Call: 01264 357879
About Andover Rider Training
Established in 1994 Andover Rider Training (ART) has since developed a reputation for being one of the best motorcycle riding schools in the South of England. With exceptional pass rates at all levels from CBT to full A Licence, ART offers a comprehensive range of motorcycle rider training courses tailored to suit your needs and availability. As well as boasting a team of professionally qualified, dedicated and experienced instructors, ART also offers many other benefits.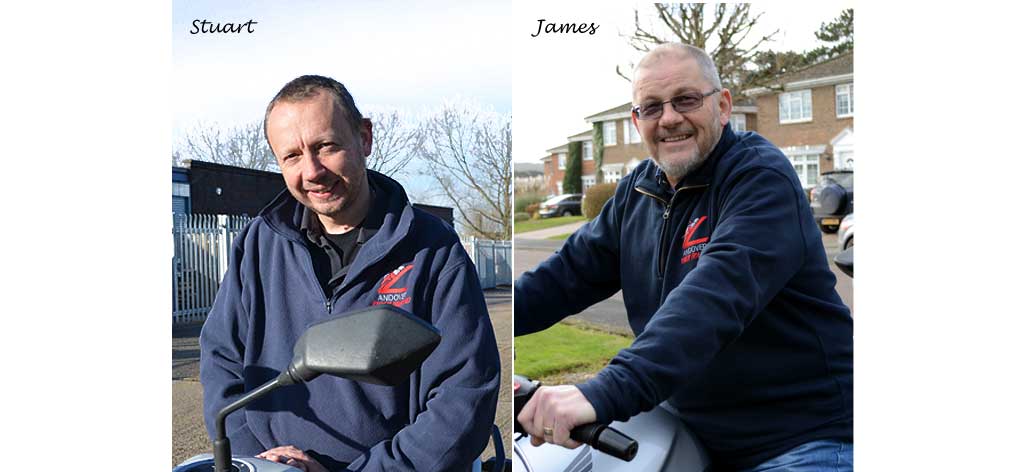 Reasons to Choose ART
Comprehensive motorbike rider training on all types of roads and conditions
Flexible training days (including weekends)
Up to 450 miles covered during 4 day DAS course
Official DVSA Test Centre sites used for Module 1 training
Test area chosen to suit your location and availability
Video recording of your tuition/riding available
All major credit/debit cards accepted
Free tea, coffee and a warm welcome always
Stuart Rayner, Chief Instructor
Stuart Rayner is literally a lifelong motorcyclist, he was given his first motorbike on the day he was born, a Triumph Twenty-One, 350 twin, some birth present. As a lifelong fan of bikes, he has had many adventures, including riding most of Europe, as well as Morocco and Thailand. He also takes part in all forms of bike sport including Enduro and short circuit racing, but his passion is for real Road Racing, which has seen him compete in events in Northern and Southern Ireland as well as the Isle of Man TT .
Stuart has great success in coaching all levels of students, enabling them to go on and complete their full licence. He has also been able to bring in some of his race techniques to help Advance Students.
James Ferguson, Instructor
James Ferguson has been riding motorbikes since he was 12 and passed his driving test whilst only 16. He has had the privilege of riding many different motorbikes including the Vincent Black Shadow, James 250 and the Greaves 350.
James worked in the corporate world for many years, before coming to his senses and got back in the saddle. He has enjoyed his time in that saddle ever since. His other passion is sub aqua diving; and yes, he's a qualified instructor in that as well. He has enjoyed diving in all parts of the world; favourite dive sites are still off the British coast, just wishing they were a bit warmer.
Supplements
An introduction to the motorcycle rider training instructors of Andover Rider Training in Andover, Basingstoke and Winchester Hampshire; Salisbury Wiltshire and Newbury Berkshire.
© Copyright 2008-2022: Andover Rider Training. All Rights Reserved.